Download your free project planning template
Done right, project planning helps move your project from conception to completion, while keeping stakeholders in the loop along the way.
Ensure your project plan considers all the essential elements with our comprehensive project planning template.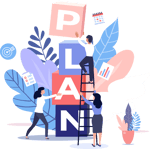 Download our free template and discover how to:
identify SMART goals that align with business objectives

understand the required scope, resources and budget

anticipate change and build in contingency

highlight the potential risks and actions that should be taken, and much more.